Volvo Construction Equipment

Volvo CE Machinery
Few manufacturers in the heavy equipment industry can stand up to the Volvo name. Volvo construction equipment (CE) consistently offers best-in-class machines for performance and fuel efficiency with the innovative features you need to get the job done right, regardless of the conditions or terrain. With over 180 years of experience manufacturing construction equipment, Volvo continues to develop emerging technologies that lead the industry.
As an authorized Volvo heavy equipment dealer in the Western United States, Arnold Machinery Company offers a comprehensive inventory of Volvo construction equipment to meet your needs for new and used machines, rentals, parts and service.
Types of Volvo Heavy Machinery We Offer
We maintain an extensive selection of new Volvo construction equipment, including:
Articulated haulers: Volvo CE has been an industry leader in manufacturing articulated haulers since developing the world's first series of models in the 1960s. Volvo CE articulated haulers deliver high productivity while keeping operating costs and fuel consumption low. Their ease of operation, comfortable cabs and high safety levels make them popular among experienced operators.
Excavators: Volvo excavators are the world's ultimate digging tools, proven by their power, durability and exceptional fuel efficiency. We offer various models that serve a broad application range, including general construction, civil engineering, road building and mining.
Wheel loaders: Volvo wheel loaders offer industry-best features for high performance, superior efficiency and exceptional versatility with low emissions. We offer large and compact wheel loaders to handle an extensive range of tasks in the construction industry, including digging, loading and transporting materials.
Compaction equipment: Volvo soil compactors provide the strength, durability and efficiency to handle all your compaction needs in commercial, industrial and large residential applications. We also supply several asphalt compactor models to maximize your productivity on a highway or city street project.
Electric equipment: Volvo CE offers the market's top lineup of electric machines with industry-best technology to produce lower noise levels, zero exhaust emissions and reduced energy costs. Options include several electric excavator and wheel loader models.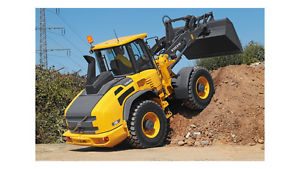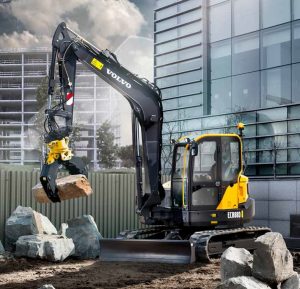 Used Volvo Industrial Equipment
Deciding between new and used machinery often depends on job frequency, the exact application and your company's budget. Pre-owned heavy machinery can often be as reliable and efficient as new equipment, especially if it carries the Volvo name. We offer a comprehensive selection of used inventory that changes frequently, so check back often to find the perfect machine for your operation.
Our Volvo-certified technicians thoroughly inspect each pre-owned model to ensure it is ready to perform productively. We prioritize our customers' needs and do whatever it takes to ensure complete satisfaction.
Volvo CE Rentals
The team at Arnold Machinery understands that availability and affordability are two of the primary reasons you may rent heavy machinery over buying. We are committed to providing the Volvo construction equipment you need to meet your production schedules. Our rental inventory includes low-hour equipment that meets the highest safety and reliability standards. We offer daily, weekly and monthly rental agreements to suit your operational needs.
Emerging Technology
Arnold Machinery Company's Uptime Center in our Salt Lake City branch offers revolutionary techniques for equipment monitoring, including Volvo's ActiveCare Direct telematics technology. Our knowledgeable and experienced technicians can monitor your Volvo machine to diagnose problems early and find a proactive, sustainable solution. Telematics captures thousands of data points and sends them to our center, where experts monitor them in real time to identify performance issues.
Uptime services are tested and proven to cut repair costs and unplanned downtime.
Stay on track with planned maintenance and keep your equipment covered with uptime services like:
Care inspections
Repair
Oil analysis
Undercarriage inspections
Virtual tech support
Benefits of Choosing Arnold Machinery as Your Volvo Construction Equipment Dealer
Silver Service® emphasizes Arnold Machinery Company's commitment to providing the industry's best customer service. We strive to ensure each client is satisfied from the time they purchase a machine through its service life. As a Volvo heavy equipment dealer, we aim to deliver everything our customers need to achieve years of durability, reliability and high performance.
Contact Arnold Machinery Today
If you're interested in learning more about how Volvo heavy equipment and Arnold Machinery Company's Silver Service® can benefit your operation, our team can help. Connect with us online, call 801-972-4000 or visit a location near you today to get started.
CONTACT US