Hitachi Heavy Equipment

Hitachi Equipment
Hitachi manufactures some of the world's most productive, efficient, and durable mining and construction equipment. Because Hitachi is known as a leader in innovation and safety, many of today's top companies choose Hitachi machinery to handle their everyday tasks across many different applications. With a broad product range, Hitachi is committed to offering customers high-performance, reliable equipment that can tackle the most demanding jobs.
Arnold Machinery Company is a leading Hitachi heavy equipment dealer for sales, rentals, parts and service across the Western United States. With many decades of experience, we pride ourselves on our long-standing relationships with each client we serve. Our team understands how critical it is to your operation's production to have access to the market's best equipment and services.
Your Leading Hitachi Heavy Equipment Dealer for the Mining Industry
Arnold Machinery Company's mining division offers a comprehensive equipment selection for multiple industry sectors, including mining, construction, mining contractors, quarries and government agencies. Several examples of the new models of Hitachi machinery we supply are:
Excavators: For decades, excavators have been the flagship product of Hitachi's vast equipment portfolio. Arnold Machinery Company offers various models to increase your operation's production while maintaining the highest safety levels.
Haul trucks: Hitachi haul trucks outperform the competition through their simplicity, maximum efficiency and superior dependability. We offer various models designed to meet your production needs and keep your mining crew moving.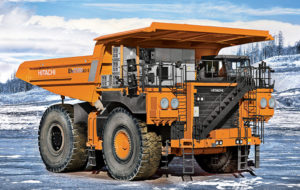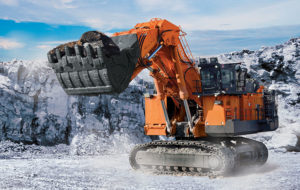 Used Hitachi Construction Equipment Dealers
In some cases, buying used equipment for your business offers many advantages. When you choose pre-owned Hitachi mining or construction equipment, you receive one of the industry's most dependable and productive machines. Our highly skilled technicians thoroughly inspect each piece of equipment to ensure maximum efficiency over a long service life.
At Arnold Machinery Company, we offer deals on used machines that provide significant savings without sacrificing the quality and reliability of new equipment.
Hitachi Heavy Equipment Rental
If you have a one-time job or a project that doesn't warrant buying a machine, we offer a complete line of Hitachi rentals to cover your requirements. Because we understand your needs and expectations when renting equipment, our professionals go the extra mile to ensure your satisfaction. Our rental selection features modern designs with low hours to deliver efficient, reliable performance.
We offer flexible rental contracts to suit the needs of your budget, whether you need the equipment for a day, a few weeks, several months or longer.
Advantages of Partnering With Arnold Machinery Company
Arnold Machinery Company's Silver Service® guarantees the highest customer satisfaction levels for all our products and services. Our team is committed to helping you keep your business running efficiently with little or no downtime. Silver Service® gives you peace of mind, whether you're buying new equipment, requesting a parts replacement or bringing your machine in for preventive maintenance.
Contact Our Professionals Today
If you're ready to enhance your heavy equipment fleet with a Hitachi machine backed by our world-class Silver Service®, the experts at Arnold Machinery Company can help. Learn why businesses across the Westen United States depend on us to handle all their heavy equipment needs. Call 801-972-4000, visit one of our convenient locations or contact us online to learn more.
CONTACT US