Arnold Machinery Director of Sales and Marketing Warehouse Products
---
Arnold Machinery Culture
Randy Maxon is Arnold Machinery Company's Director of Sales and Marketing Warehouse Products for our Material Handling Division and he is our August 2020 Associate Spotlight. Here at Arnold Machinery Company, our wonderful associates make our company a fun and endearing place to work. We spotlight a different associate every month to showcase just how friendly and relatable they are. Our associates answer some work related questions as well as some that will reveal their hobbies, dreams and interests outside of work.  We hope you enjoy getting to know the people behind our Silver Service® guarantee.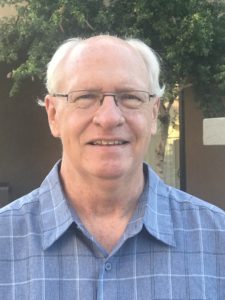 Full Name:  Randy Maxon  
Job Title: Director of Sales & Marketing Warehouse Products
How long have you been with Arnold? 6 Years
What do you like about working for Arnold Machinery Company? I like the work atmosphere and the Silver Service policy which blends with my own beliefs in life.  My supervisors and fellow associates are great to work with.
Are you married? Any children? Pets?  I am married, with one adult son, and currently no pets.
If you could turn any activity into an Olympic sport, what would you have a good chance at winning medal for? Creating friendships.
(Aww! We love that answer!)
What job would you be terrible at? Miner
What hobby would you get into if time and money weren't an issue?  Playing a musical instrument.
What is your current dream vacation? Going back to Germany / Austria and finding old family roots and possible relatives.
What fictional place would you most like to go? Hogwarts.
(Who doesn't, right?)
What are some small things that make your day better?  Interactions with people's pets, compliments, quiet time to myself.
What is something that is considered a luxury, but you don't think you could live without? Independence and Freedom that my job allows me to do.
If you could be any animal for a day, what would you be and why? An Eagle. Flying, Soaring, majestic and independent.
If you could have a super power, what would it be? Intelligence.
Who is the one person you would love to sit down and have dinner with, dead or alive? Neil Armstrong.
Who wants to be friends with Randy now? If you are looking for warehouse racking in the Utah area, Randy is your man and will get you exactly what you need. Reach out to our Salt Lake City material handling branch at the number below and allow us to help you with all your warehouse needs.
Thank you, Randy! We enjoyed getting to know you better.
---
---