5 Reasons Why Arnold Machinery Has the Best Machinery Customer Service
---
Silver Service®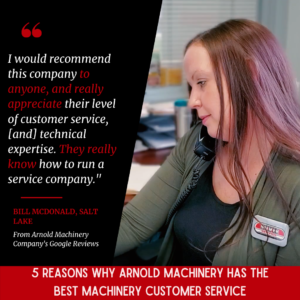 When you are looking to purchase heavy equipment, you want a company that will have your back. Investing in heavy equipment for your business or personal project is a long term commitment and we understand you want a company that will always stand by the equipment they sell. That is why we have our Silver Service® guarantee. It is the best machinery customer service in the heavy equipment world. It is your safety net when investing in Arnold Machinery equipment.
Why is Silver Service® the Best Machinery Customer Service?
So what is Silver Service® and how can we claim it's the best machinery customer service? Well, we could define Silver Service® for you and make our own list of reasons why you should choose Arnold Machinery Company over the competition, but we thought this list of first-hand experiences with Silver Service® would be much better coming straight from our customers and vendors.
Here are 5 fantastic reasons why you should choose Arnold Machinery and they are all straight from our Google reviews:
1. Our customer service surpasses any other in the industry.
"The staff is exceptional from the managers to the techs, incredible customer service and all of them have a "can do" attitude. If you do not use Arnold Machinery you are getting second best. Thanks for all your help." – Brad Minn-Alaska Transportation, Las Vegas
2. We go above and beyond for our vendors too, not just our customers.
"Great place to pick up from. Got here at 7 am to load a loader. Got it loaded and went to reconnect my Rgn and found i had blown a coolant hose. They were nice enough to fix me so I didn't have to call road service. I definitely wouldn't mind loading here again. Great service. Brandy the shop manager was very helpful and nice." – Shawn Coll, Las Vegas
3. Every Arnold Machinery associate's job is to keep you happy and your equipment running.  
"Super impressive work – would recommend this company to anyone in need of their service. A bit more on why: This company, from office, to service techs to ownership helped us through a troubled used unit. They came up with a great solution for us, and kept us running our busy and growing production facility. I would recommend this company to anyone, and really appreciate their level of customer service, [and] technical expertise. They really know how to run a service company." – Bill McDonald, Salt Lake
4. No company is perfect 100% of the time, but we go above and beyond to correct our mistakes.
"I had a previous post with a bad experience in PM done by Arnold and financing issues with their lifts. Branch Manager Mark and Pat immediately got in touch with us and got to work on a remedy. They have since toured our facility, provided free PM work on our lifts, reimbursed for our labor and financing issues. They went above and beyond to ensure we're taken care of. These guys really do stand by their Silver Service Agreement. Few companies operate that way these days and that is something I truly appreciate. I am actually glad things got messed up at first because it showed their true colors on how they conduct themselves professionally and how they care about their customers.. Arnold has our business going forward permanently . Can't praise them enough on how they took care of us and fixed our problems." – Josh Dupuy, Denver
5. We keep YOUR best interests in mind at all times.  
"I've worked as a customer with Arnold Machinery for the last 10 years, and I can say that they strive to be the best they can be. I've seen changes in their business practices over the years to stay up to date with technology, innovation and customer relations. I think that the Hyster and Yale products we use are the best in the industry, and they do their best to keep us up and running. With their SILVER SERVICE in mind it gives you complete customer satisfaction. I've sat down in meetings with their management and they always have our best interest at hand. Thanks Arnold Machinery for the great service and relationship. And they answer their phone on the first ring." – Steve Siebenhaar, Salt Lake
Want more brilliant testimonials from our satisfied customers? Please visit the Customer Testimonial Playlist on our YouTube channel.
---
---